Pressed Steel Reels are widely used for intermediate manufacturing processes and transport of cables and wires.
All of MARSHINE Punching Pressed Steel Reel have passed the quality system indomestic.
Feature and Application
1.for wire production, sustainable use
2.match high speed machine
3.many models and colors
4.large loading and good dynamic balance
5.custom special size
MARSHINE provides effective OEM&ODM services, please feel free to consult.
Punching type small spindle hole model PN400-1000mm

Model

D1
Flange OD
D2
Barrel OD
D3
Centre-hole dia.
D4
Pin-hole center distance
D5
Pin-hole dia.
L1
Overall height
L2
Inner width

400

450

160/200

56

300

250

450

450

180/224

56

335

280

500

500

200/250

56

Made to order

375

315

560
560
224/315
56

425
355
630
630
250
56

390
360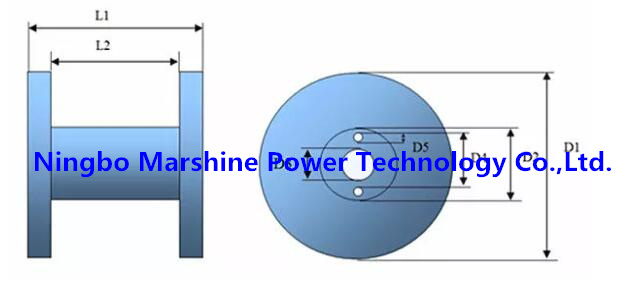 To support the Transmission work, Marshine Power has Tubular Gin Pole , Come Along Clamp, Wire Rope Pulley Block, Nylon Sheave Hoisting Tackle, Cable Mesh Sock Grip, Line Stringing Swivel- all are OEM and professionally produced per ISO 9001:2008, which are being sold to over more than 50 countries in the world. Some items like Emergency Restoration Tower And Crossing Structure, we can customized, and the Safety Tools And Accessories, are not demanded the MOQ. You can freely help you out either Tech issue or Products requirements. Pls approach us. Thanks.